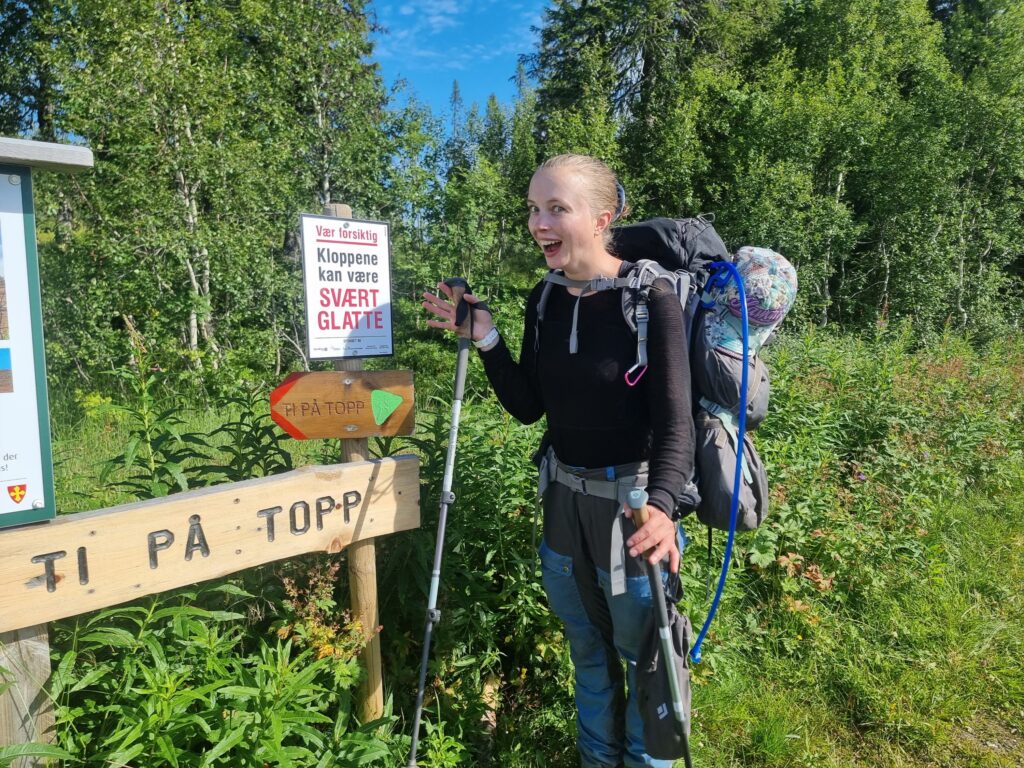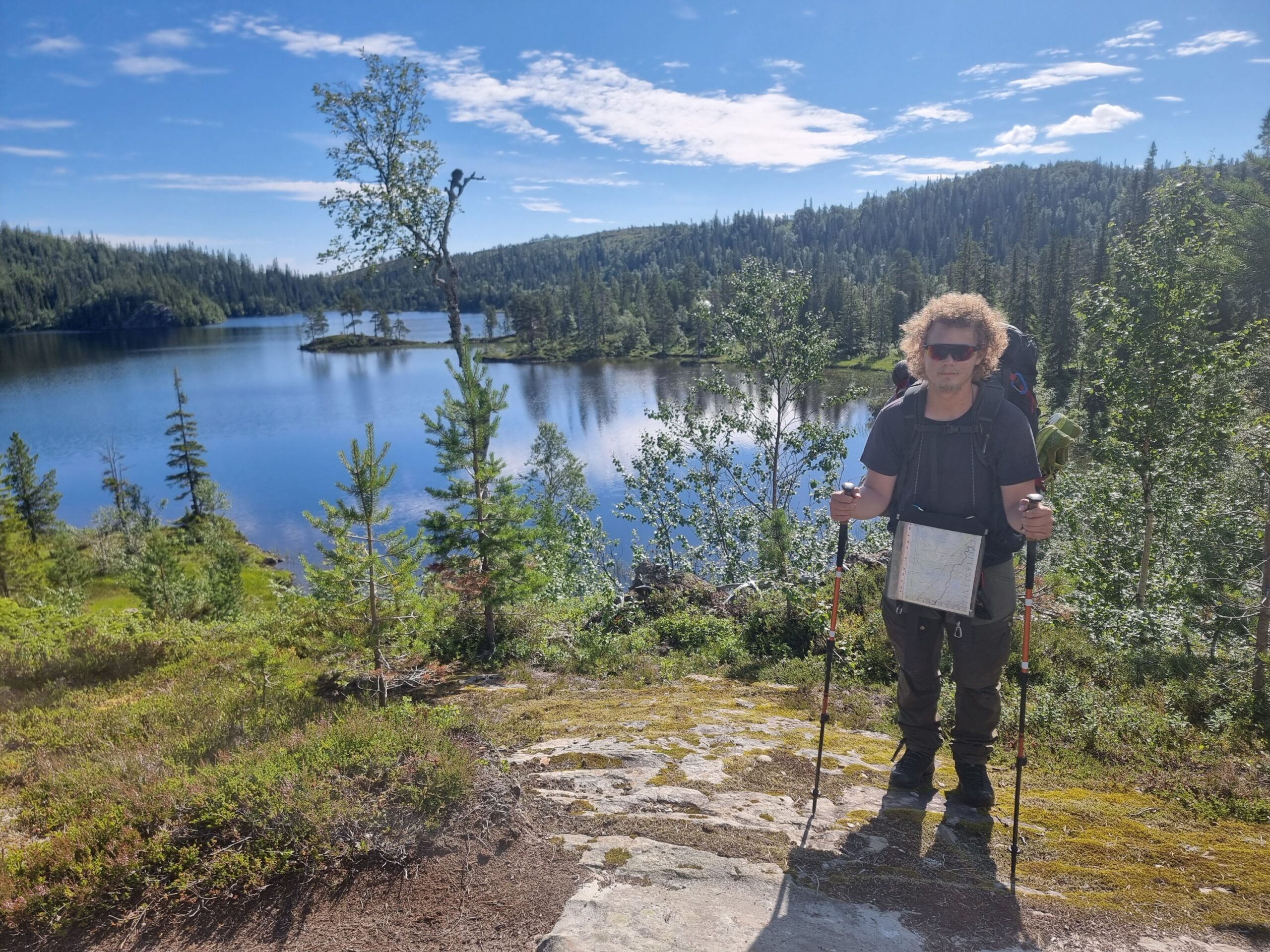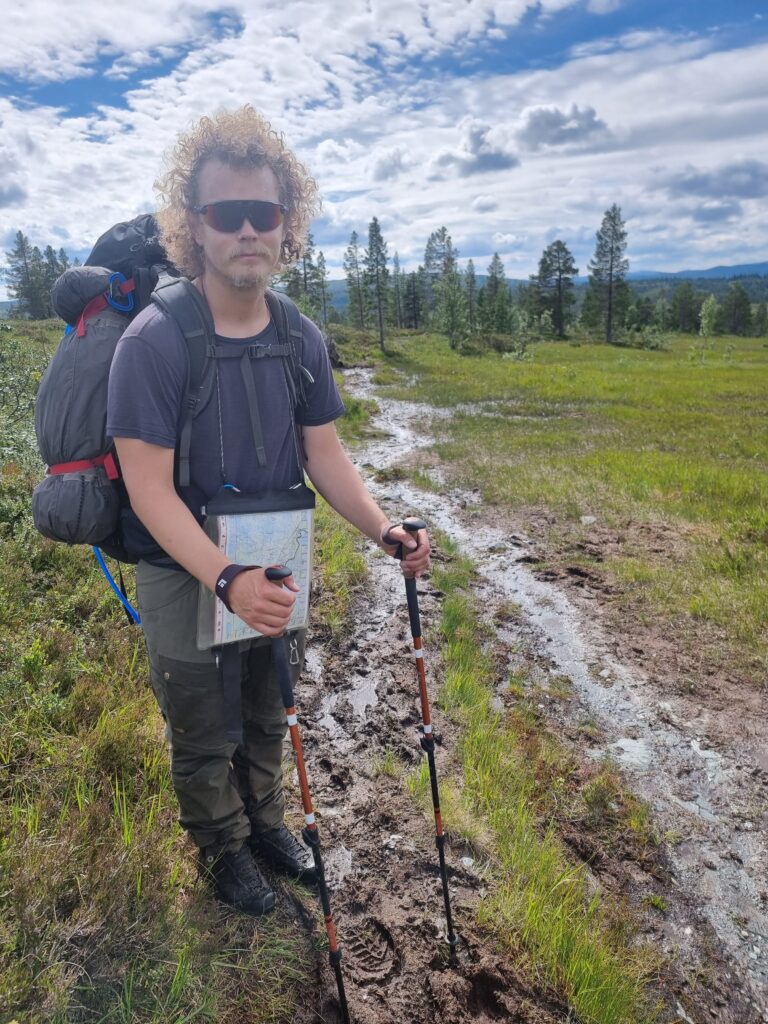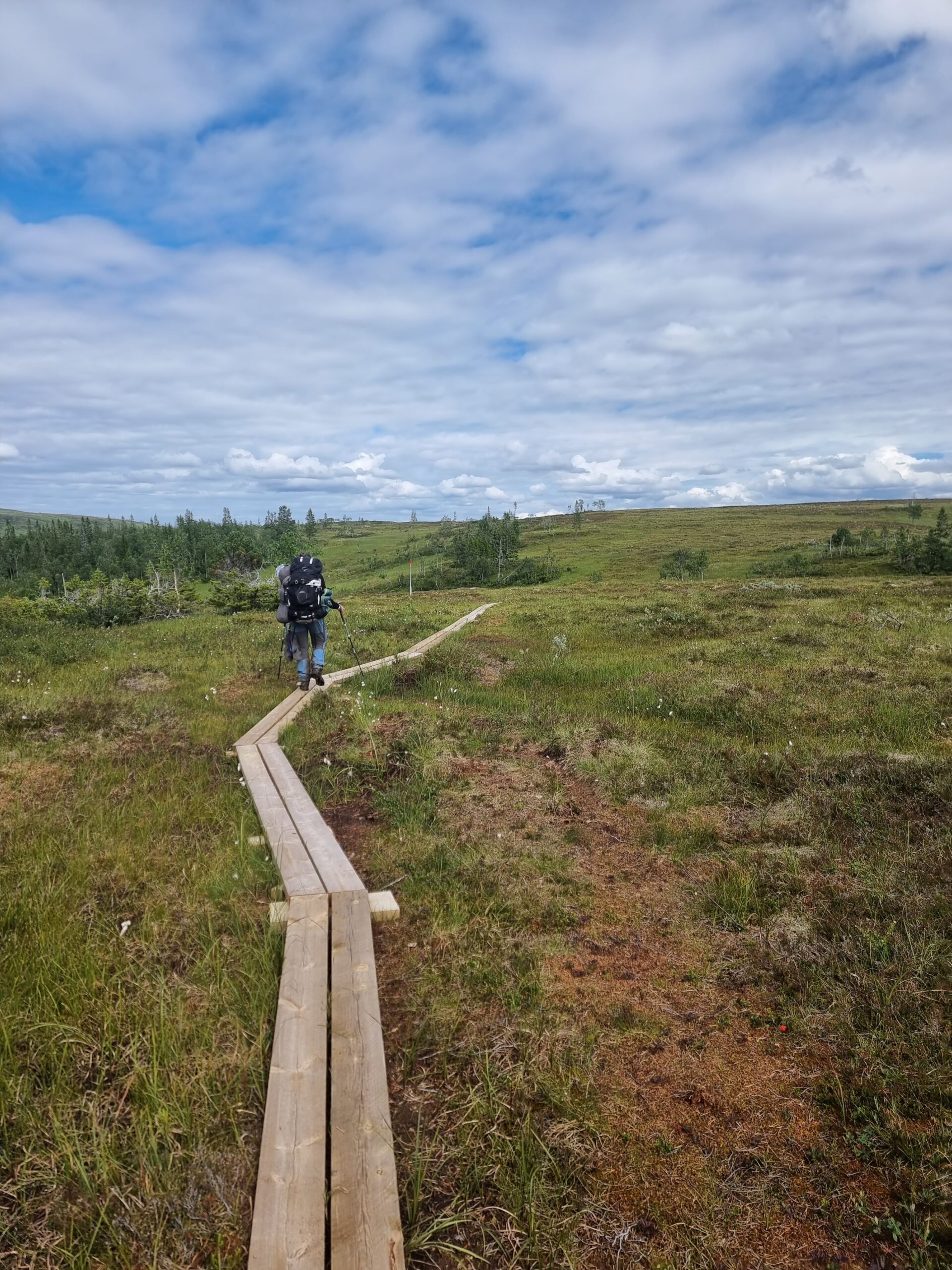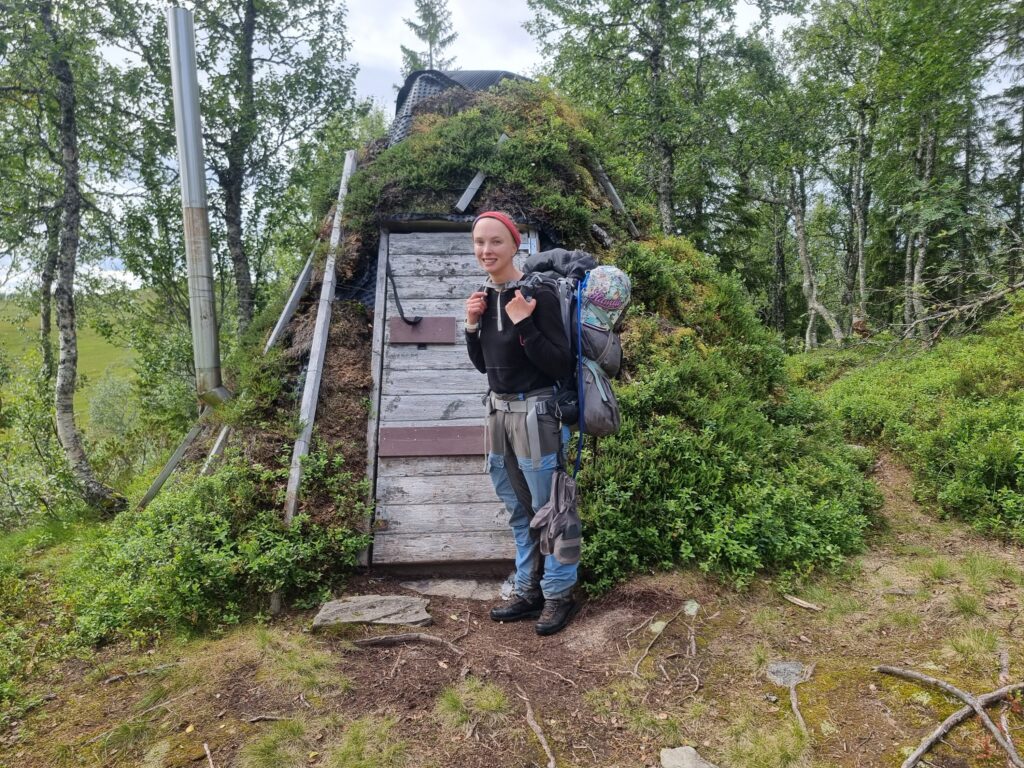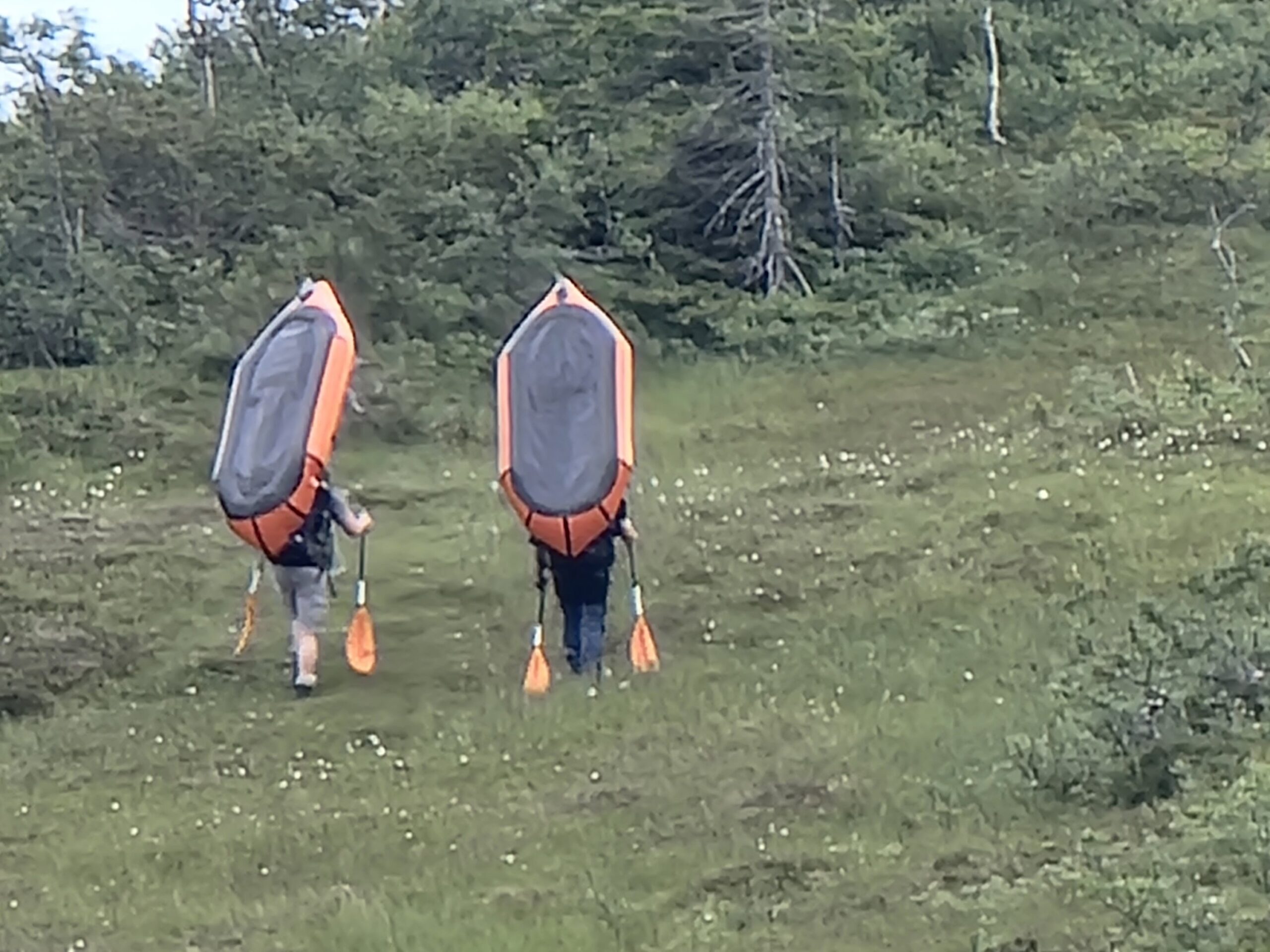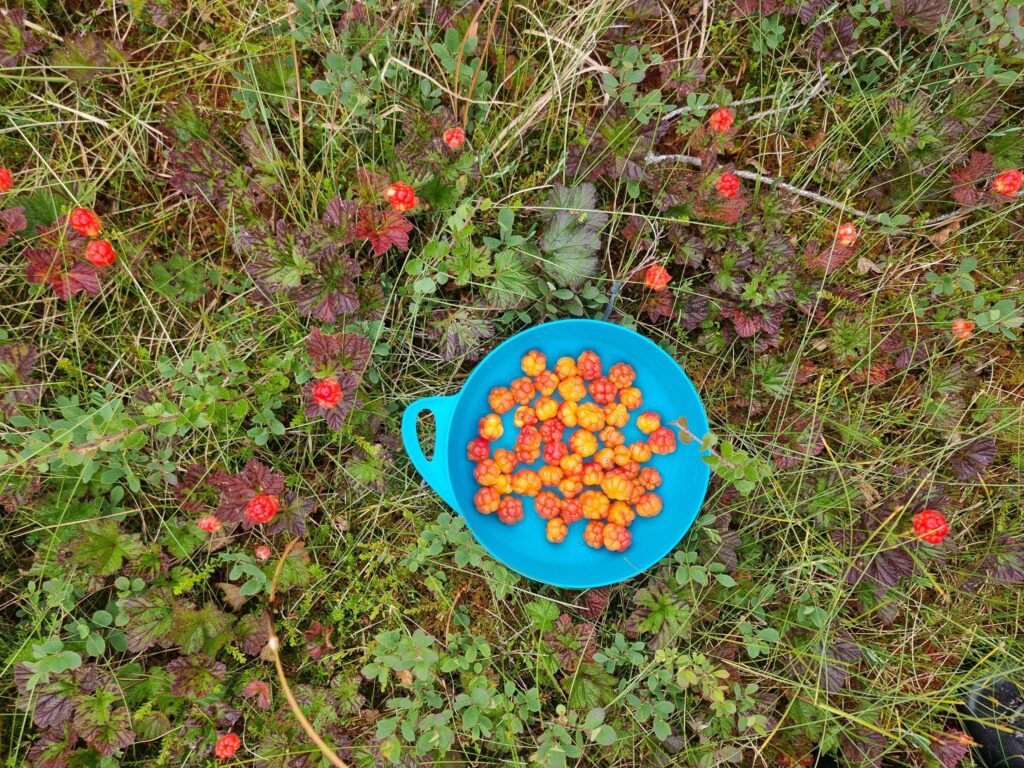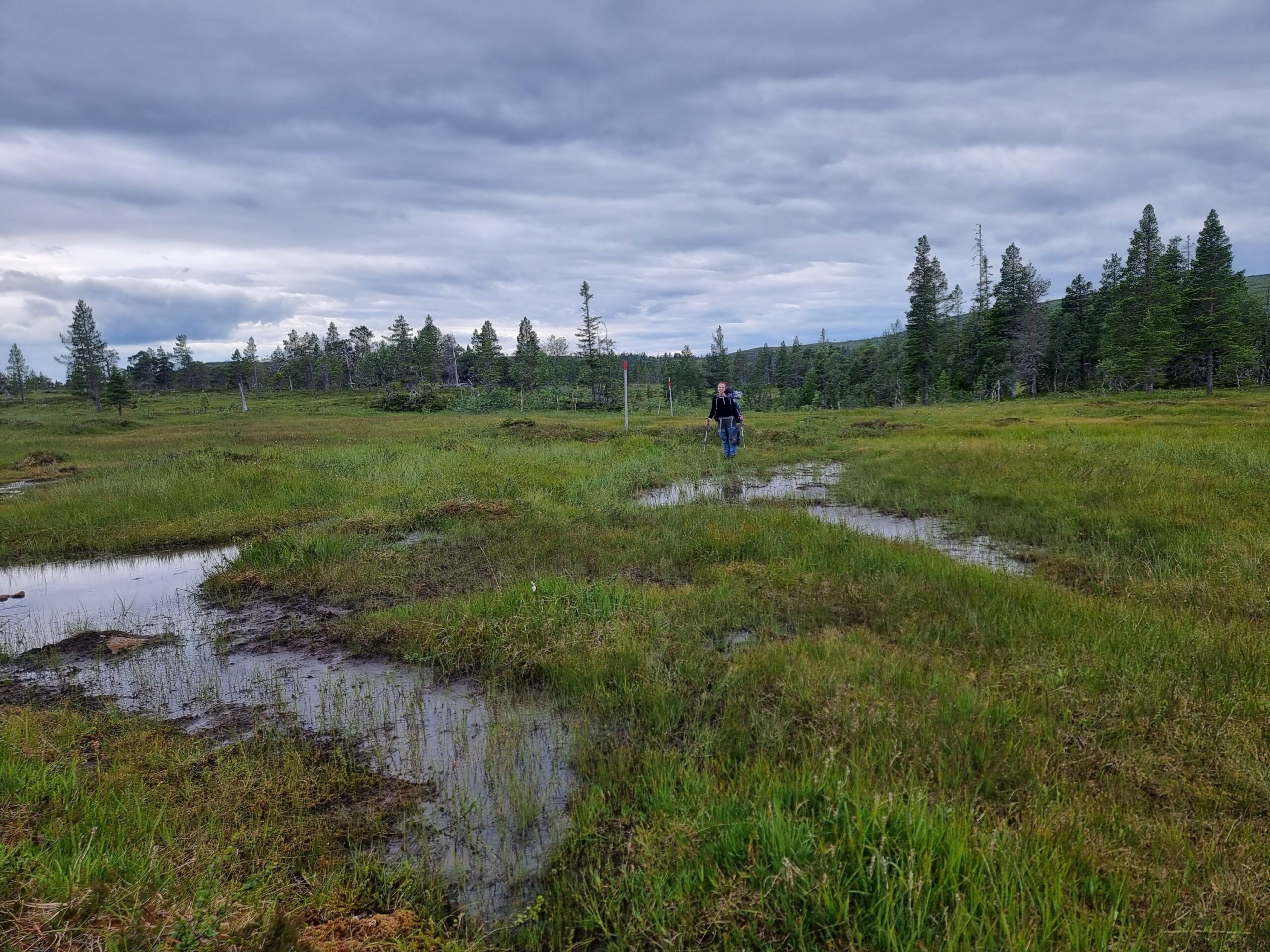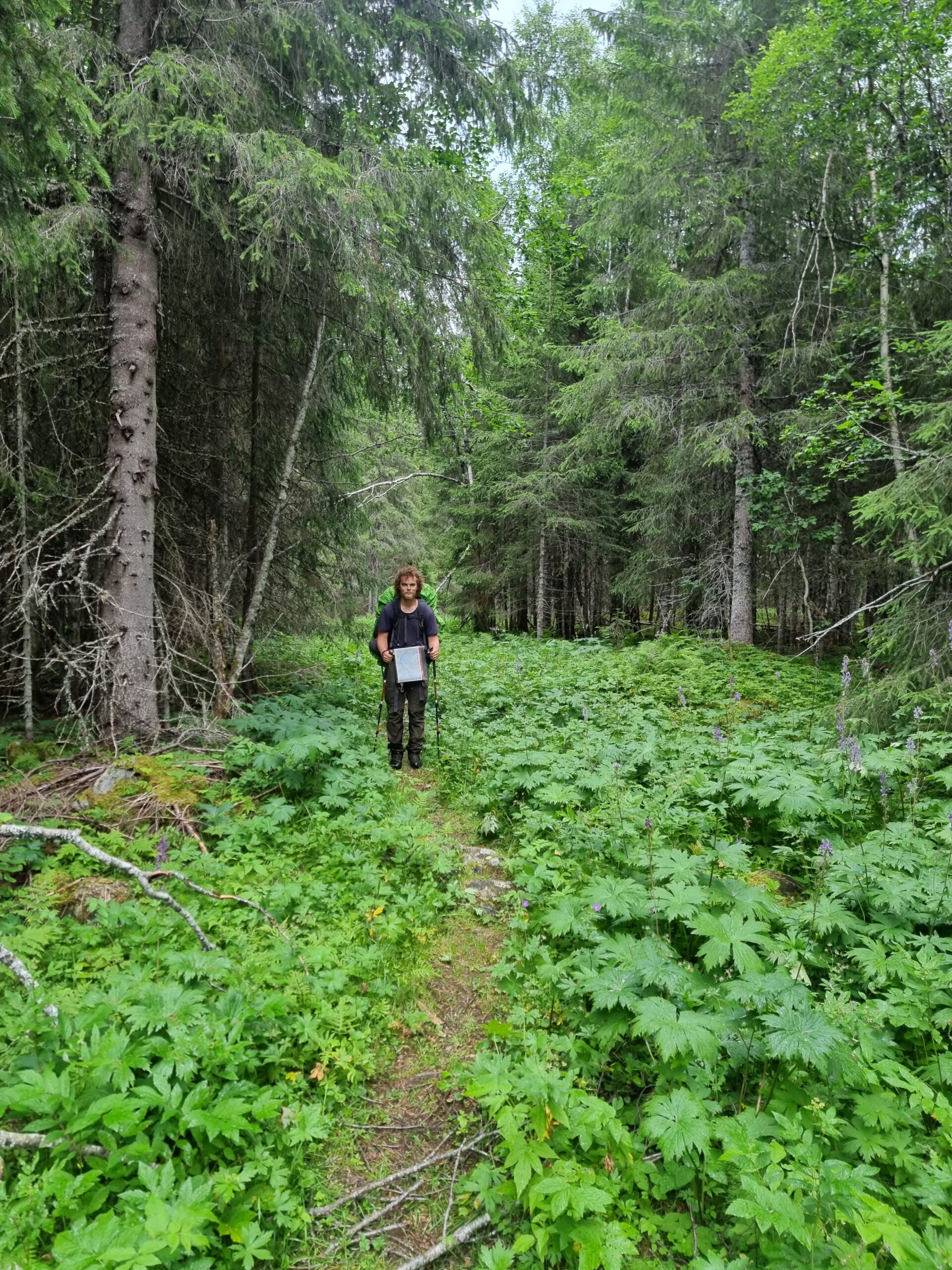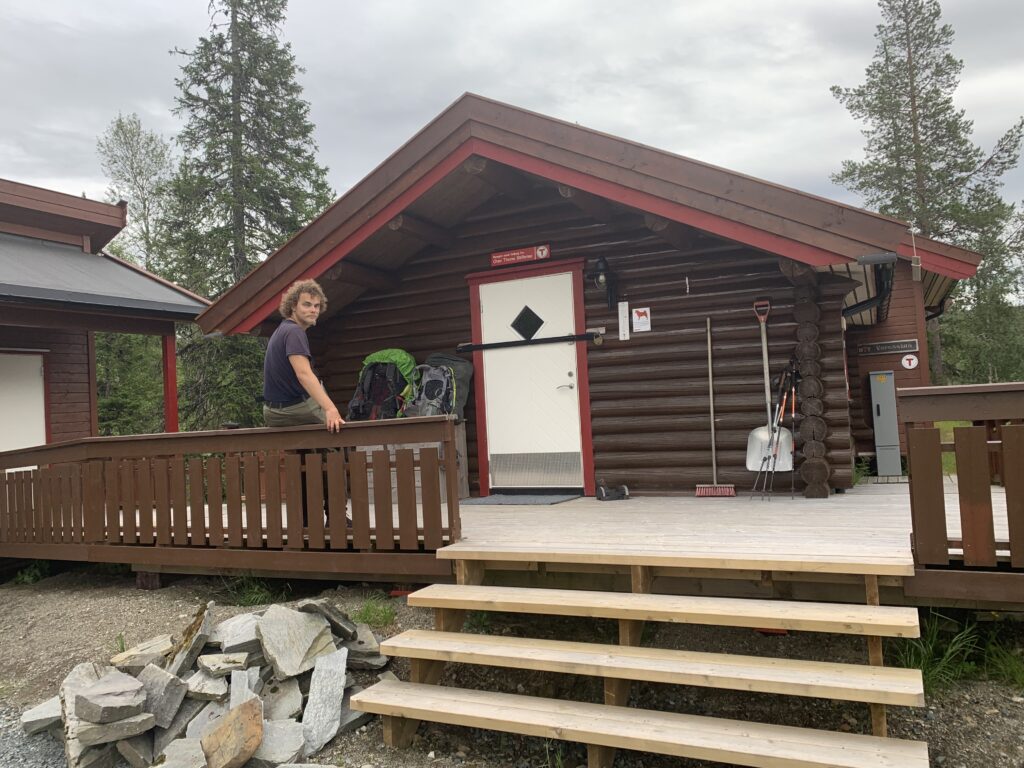 Startet dagen ved en parkering der det tydeligvis er vanlig å gå dagsturer fra. Her var det 11 biler parkert og til vår store og gledelige overraskelse sto det der et skilt; advarsel kloppene kan være svært glatte". Fantastisk glade over et slikt skilt som forteller oss at det i det hele tatt er noen klopper (planker over myra) er bare helt fantastisk. Som varslet ble dette en god start med mye klopper og flott sol for de første fem kilometerne. Dette var en populær sti opp til en liten hytte samene hadde bygd, kaldt Gamma. Etter dette forsvant alle folkene og kloppene (planker å gå på) igjen. Igjen var det bare å traske gjennom våt gjørme. Vi merker dog at det nå er på tredje dag uten regn. Gjørme begynner å tørke litt og det er enklere å komme seg fremover. Hvertfall frem til neste regnet kommer i kveld igjen.
Ved et av vannene vi gikk forbi satt vi oss ned for å slappe av og nøyt utsikten av to stk som padlet pakkraft. De padlet inn til land på andre siden av vannet, fikk løftet opp pakkraften på ryggen, og spaserte opp skråningen. Utrolig underholdende da det ser utrolig morsomt ut med en hel båt på ryggen og to padleårer som staver.
Siste kilometer gikk gjennom tett skog. Fikk litt sånn trolsk stemning av det, fin opplevelse. Selv om jeg er glad det bare var for litt da det er mye insekter, mygg og klegg i skogen.
Beinene er fulle av små sår som gror dårlig her i gjørme land. Kjenner det godt i beinene når vi kommer frem på kveldene. De trenger sårt å komme ut av skoen og få tørket. Det svir under hele fotbladet. At det var meldt fryktelig mye regn i kveld, og at vi derfor gikk ekstra fort for å rekke frem, bidro nok også til såre føtter. Veldig glade når vi kom til hytta. Veerastua er en fantastisk hytte med strøm, tørkerom og en sko tørke maskin. Vi fikk skyldt alle klær og hengt de opp i tørkerommet, veldig deilig da klærne hadde fryktelig dårlig lukt og var veldig gjørmete!
Proviantrommet var til vår store overraskelse, med tanke på at dette har manglet på alle de siste hyttene, utstyrt med både vaffel mix og vaffeljern! Olje for steking var desverre ikke å finne. Heldighvis befinner denne hytten seg litt nærme sivilasjonen, med vei og 13 fastboende i denne byen. Vi banket på hytter i nabolaget og fikk en halv kopp med smør til steking. Takk til hyggelige hytte naboer som kom oss til unnsetning. Nå blir det vafler!