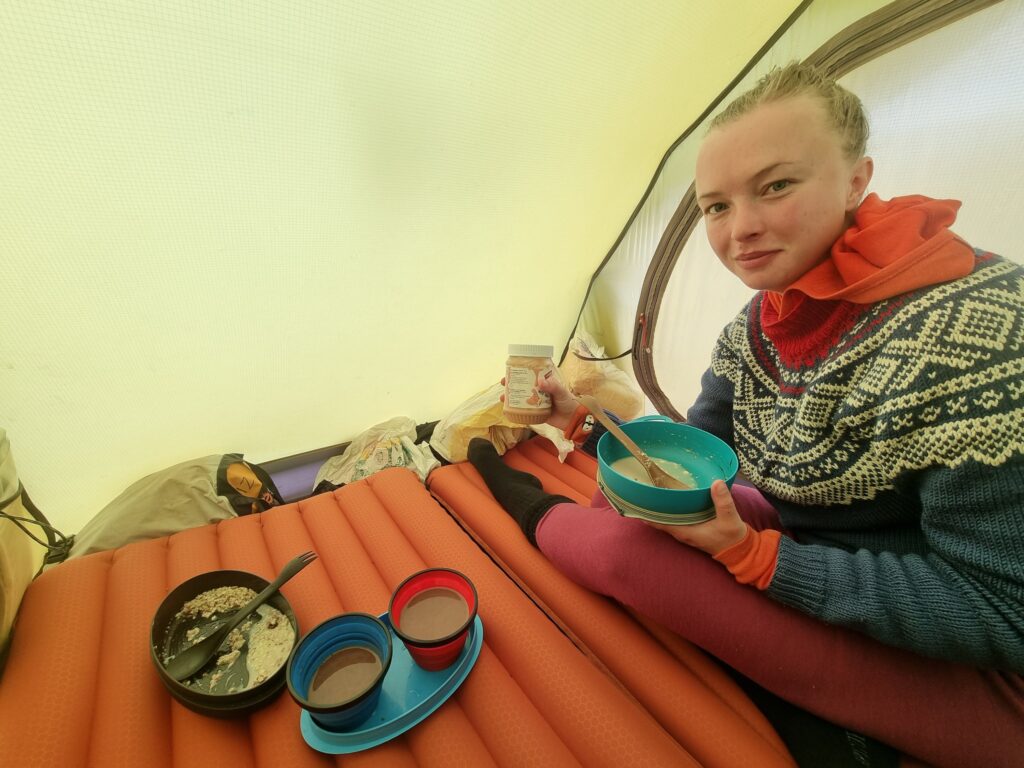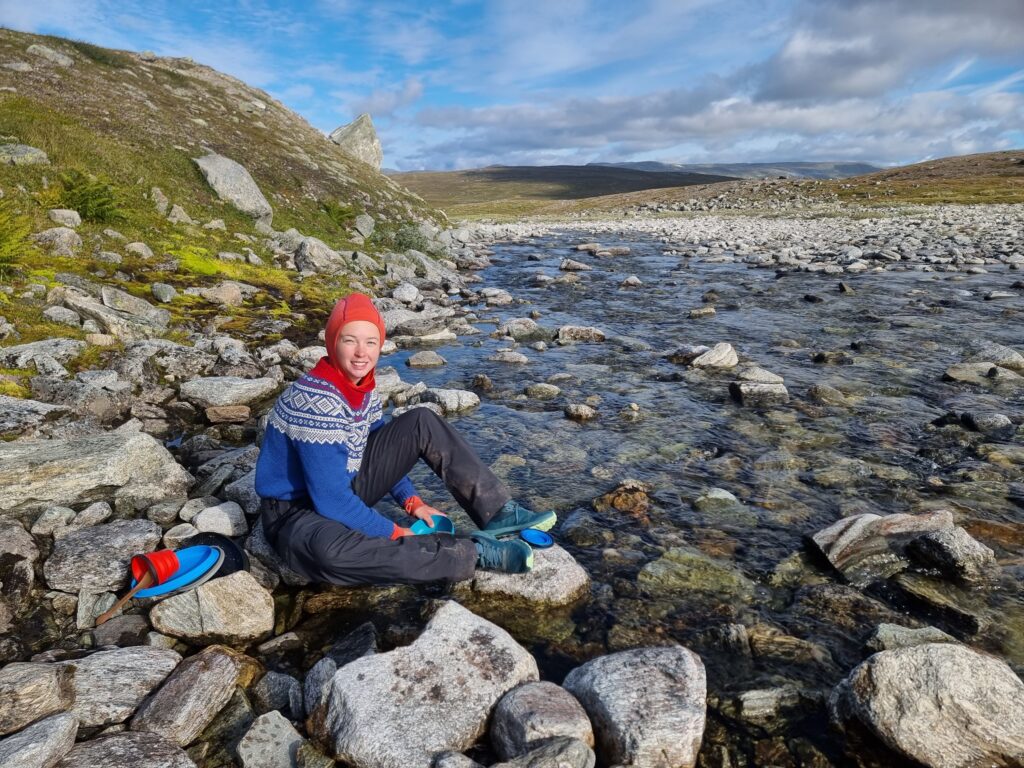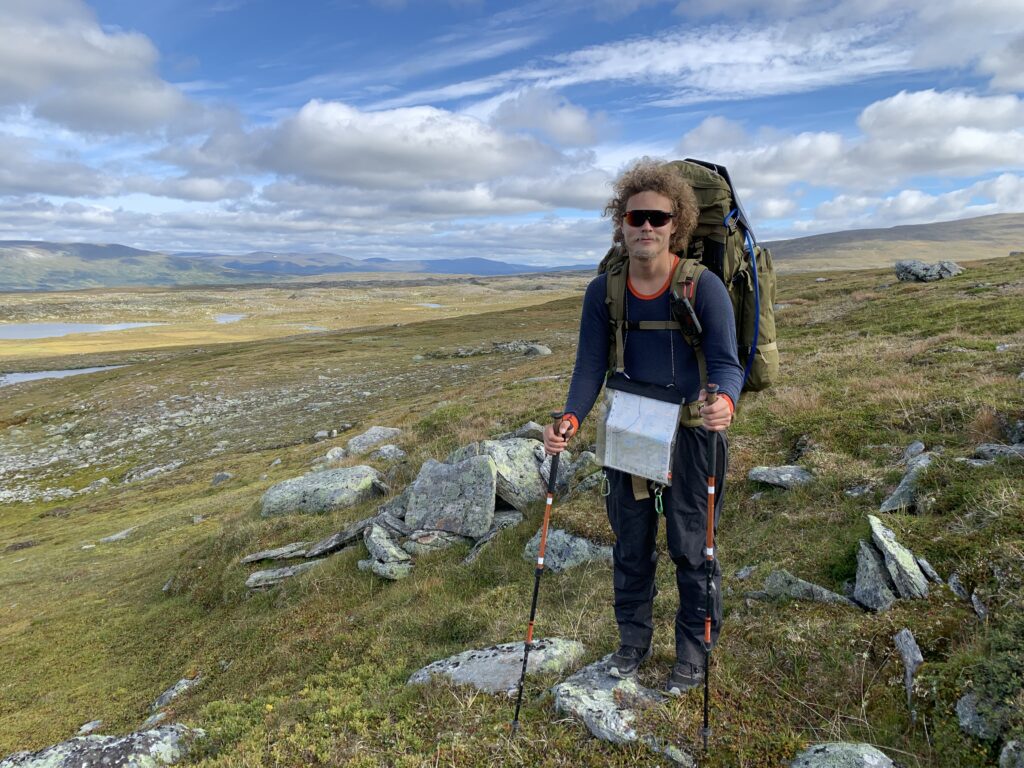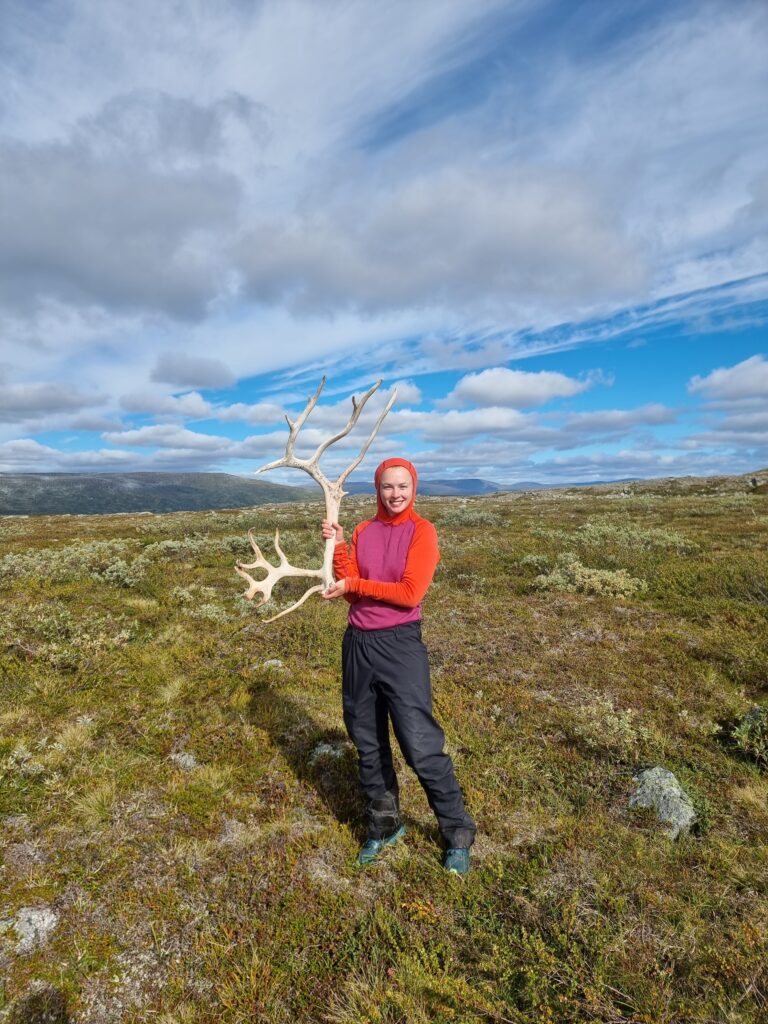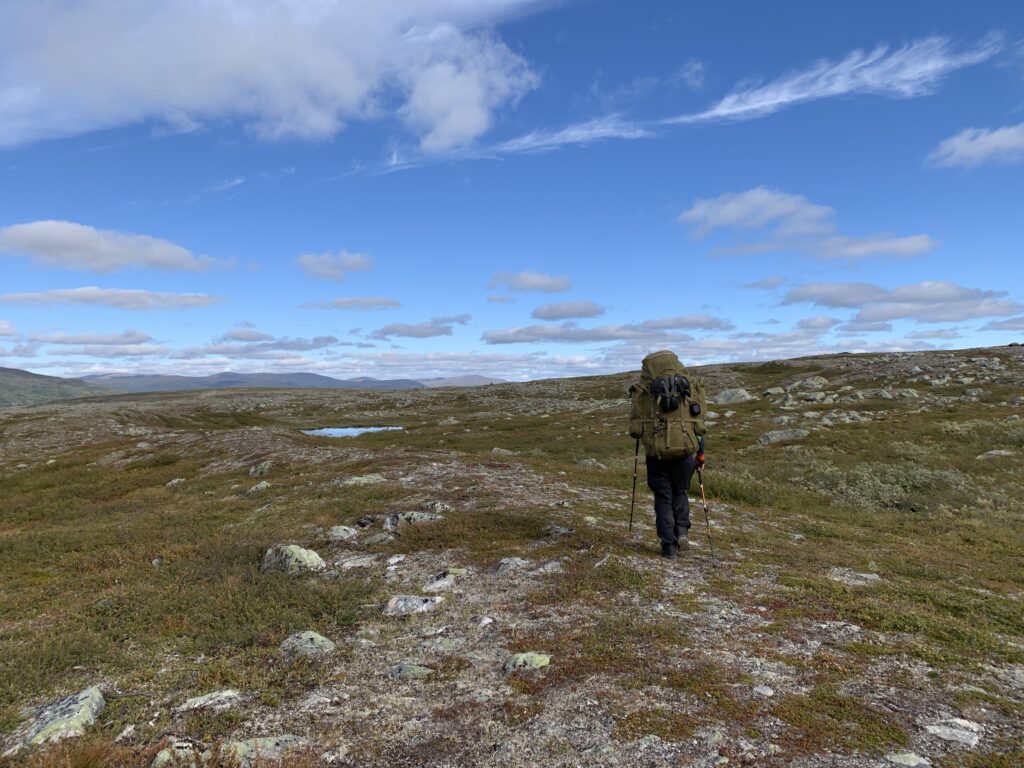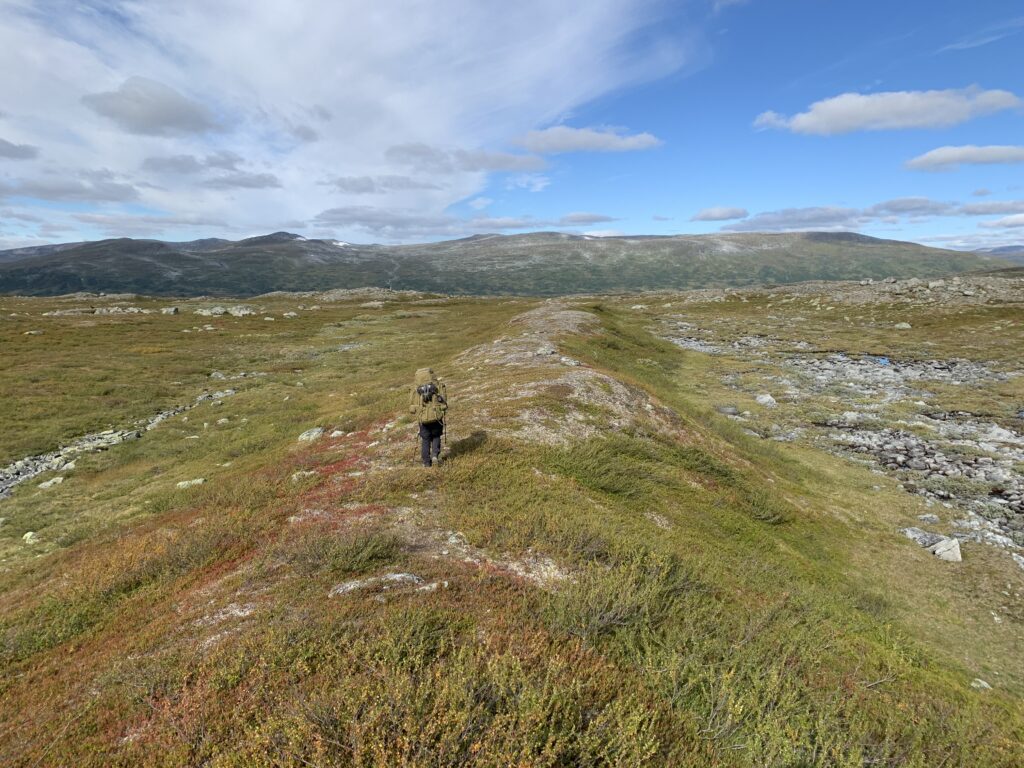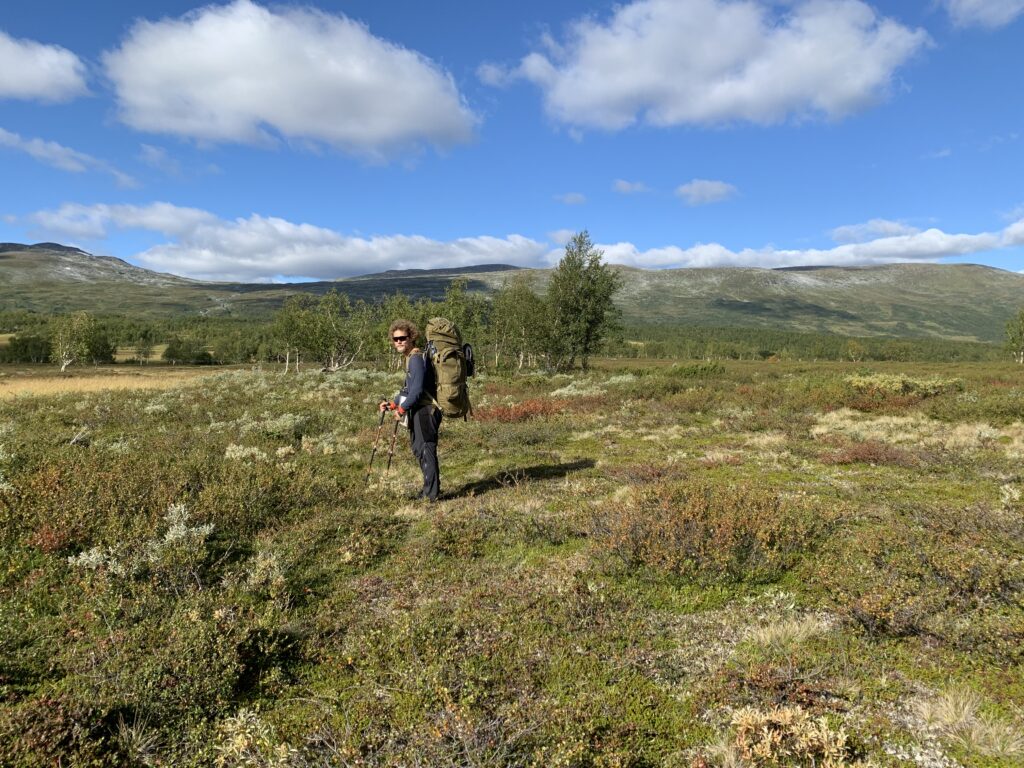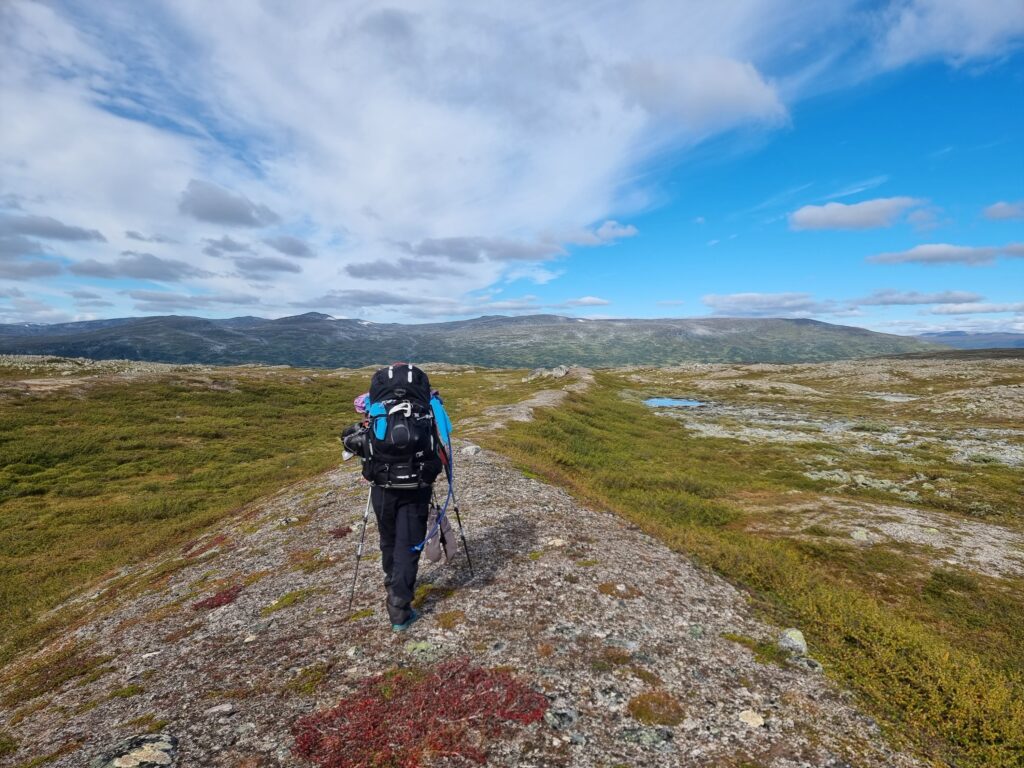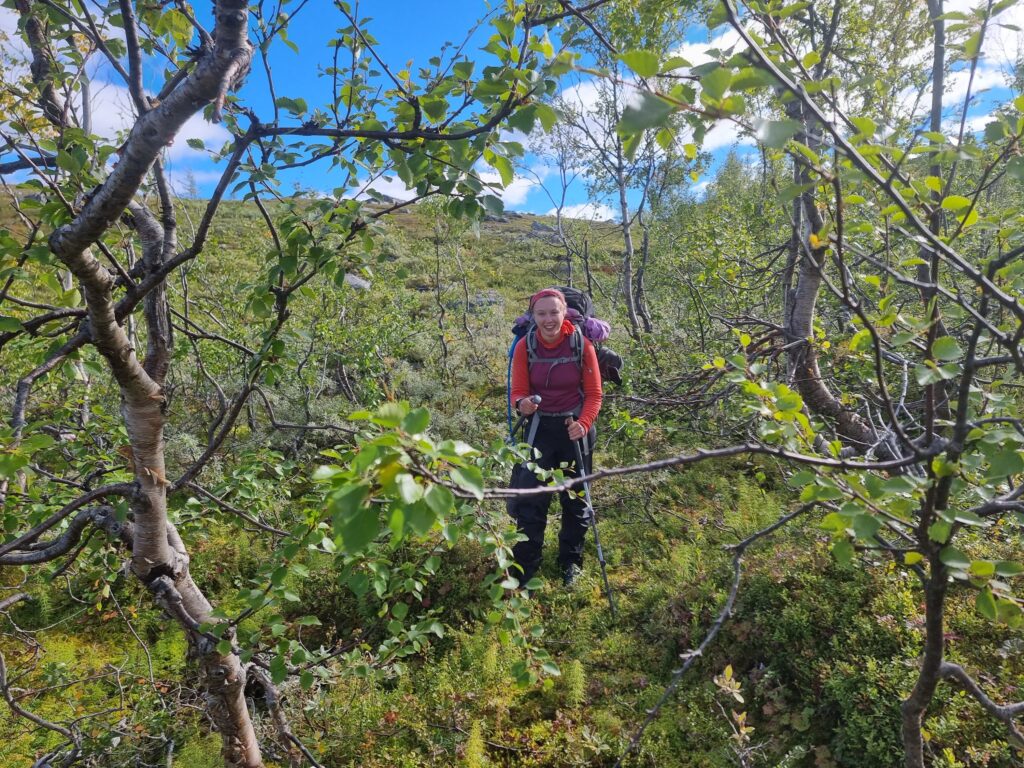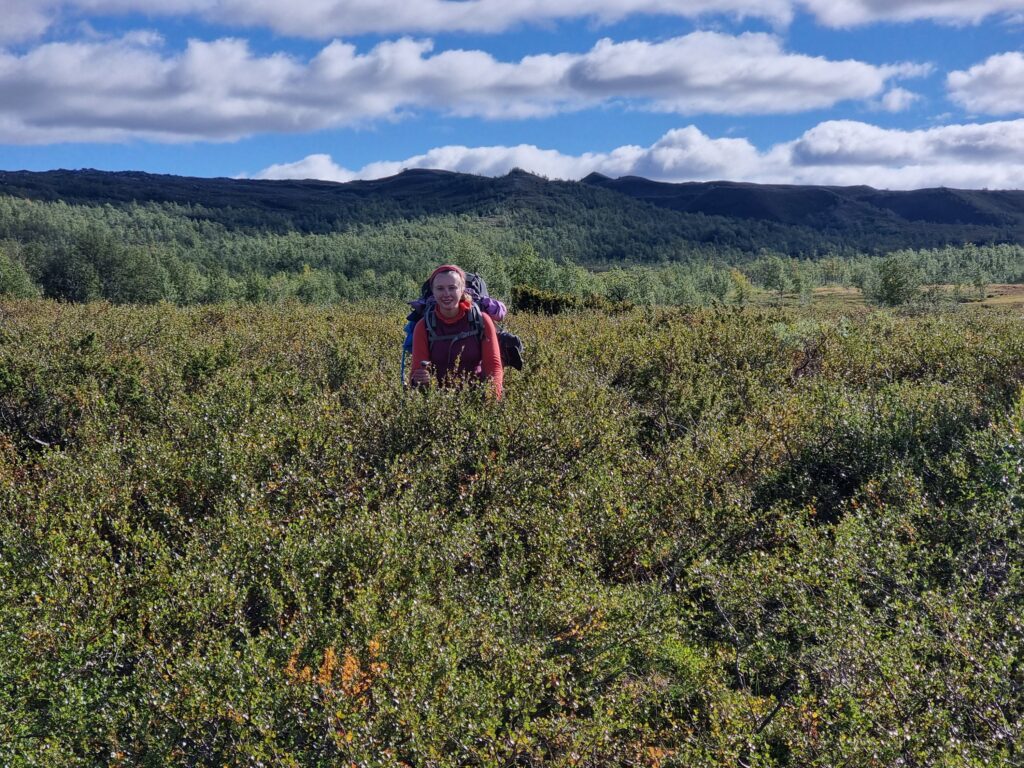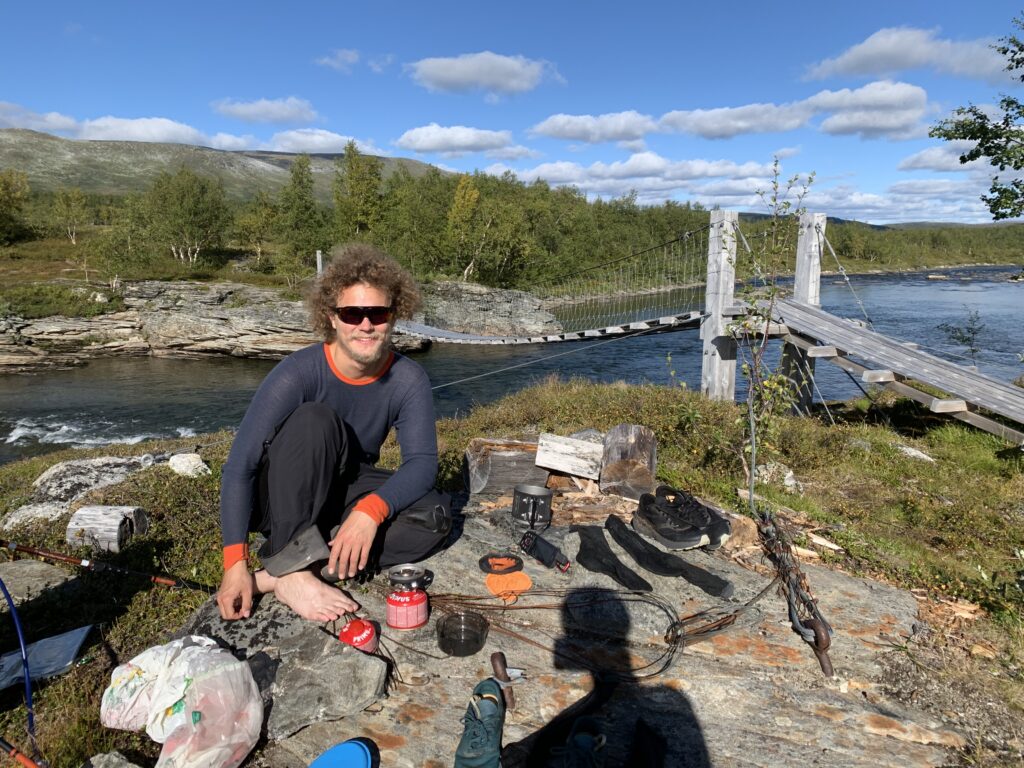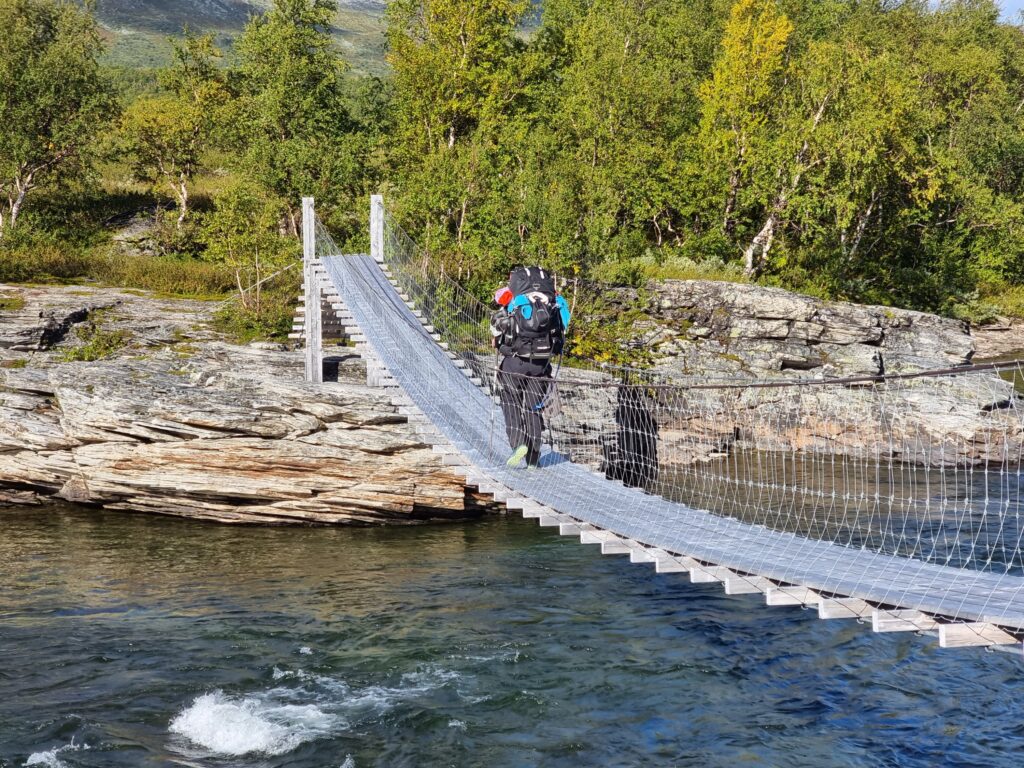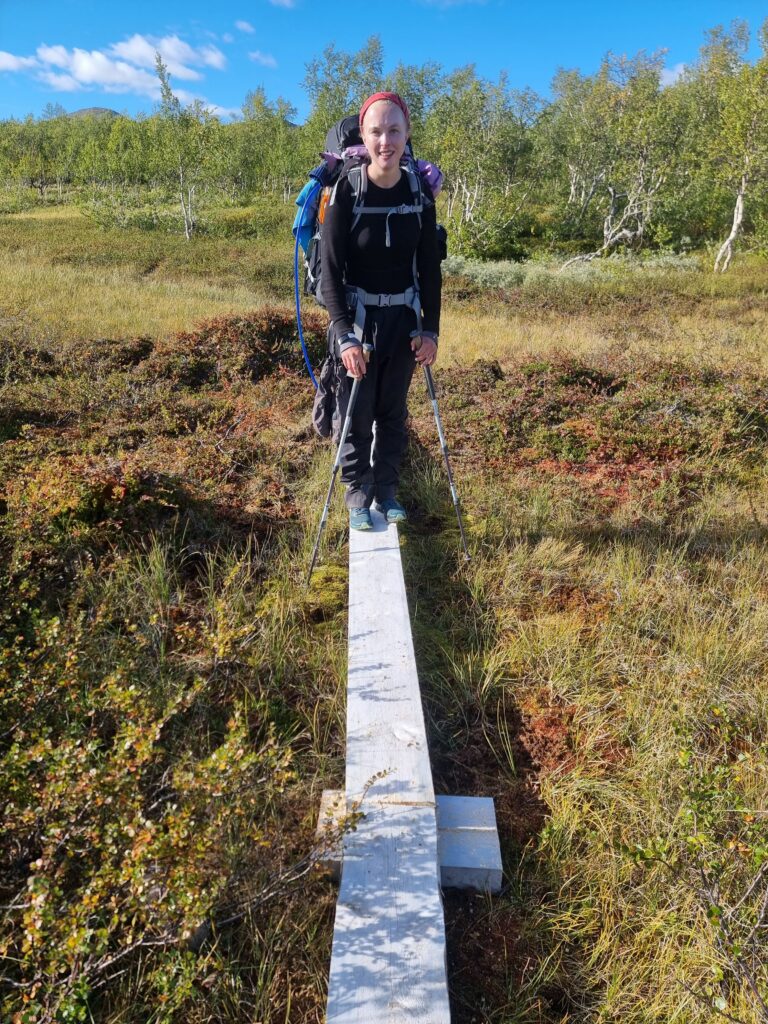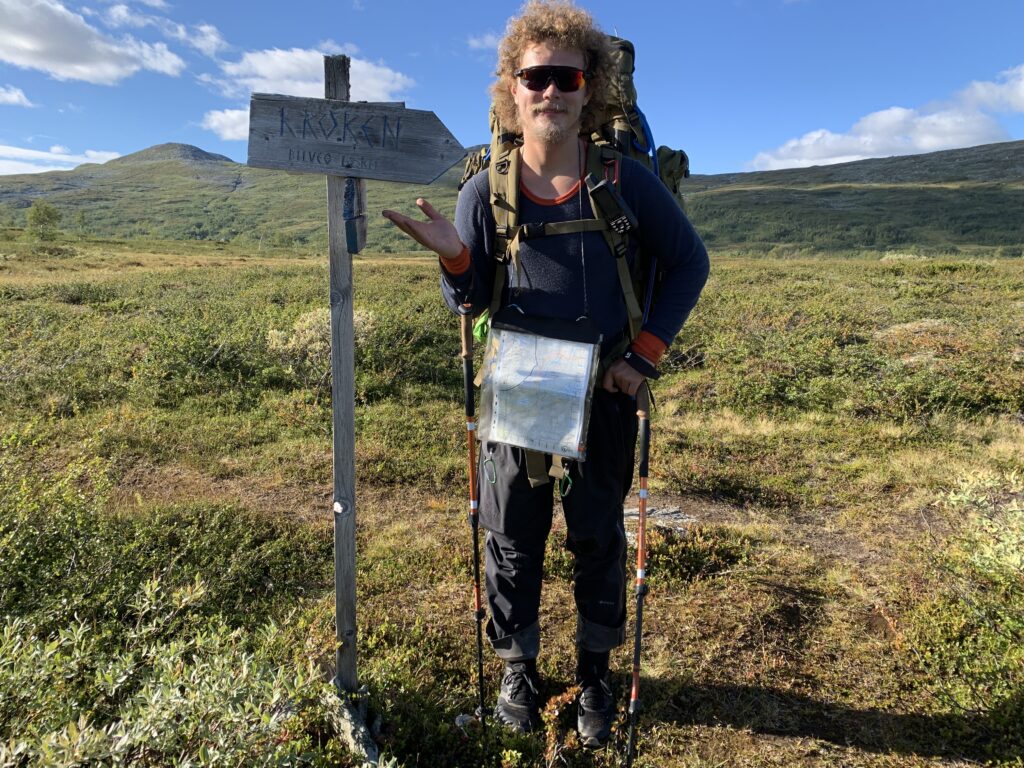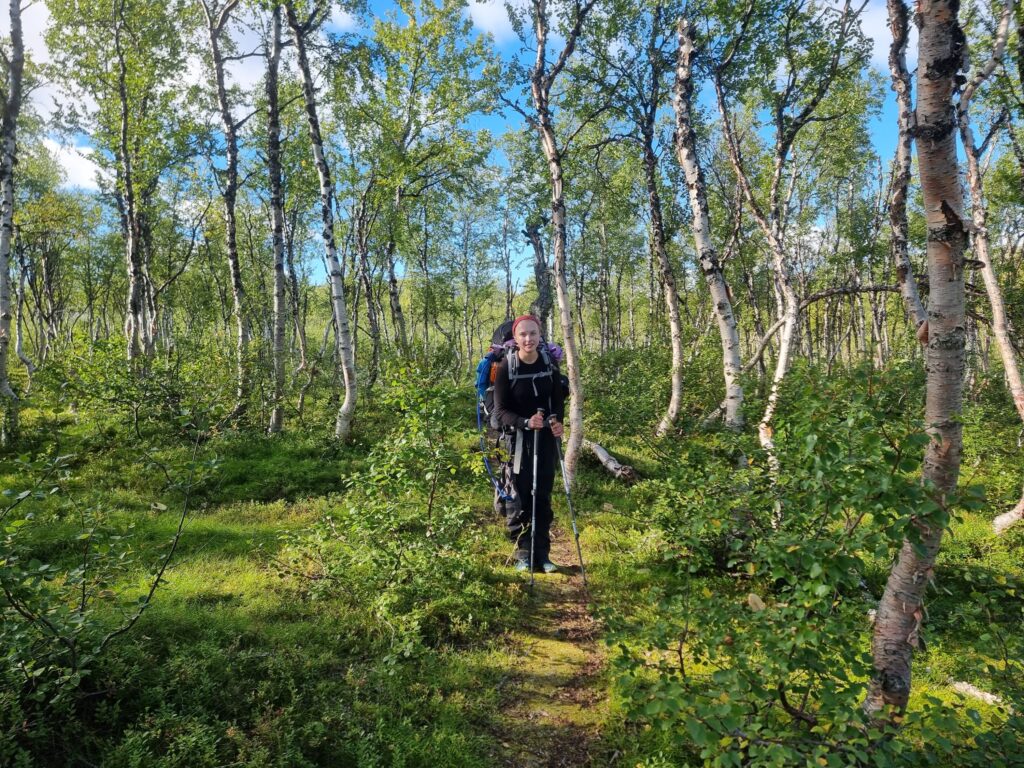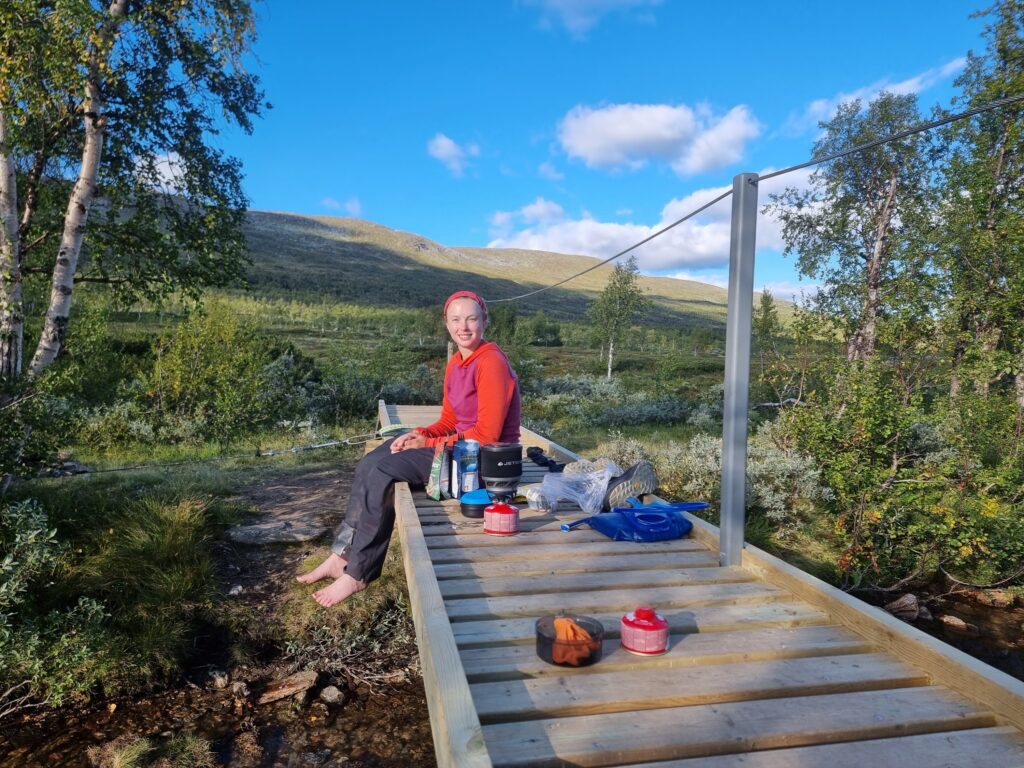 For et vær! Vi våknet til sol og blå himmel. Det finnes nesten ikke vind, og vi kan gå med kun et tynt lag med ull. Hver gang sola gjemmer seg bak en sky kjenner vi kulda bite med en gang, så det er tydelig at det kun er sol steken som gjør det varmt. Det er bare helt fantastisk å gå når du kan ta pauser uten å fryse.
På vei nedover fant vi en strekning med "fjellrygg" som var 2 meter over resten av terrenget. Her var det fin grus istedenfor kratt. Denne strakk seg sikkert en kilometer eller to, og var utrolig deilig å gå på. Føltes nesten som en grusvei, for de bruker også å være litt sånn hevet over terrenget. Vi så reinsdyr over alt og i alle retninger. Terrenget var til tider kupert, og for hver høyde vi kom rundt så vi flere reinsdyr.
Under tregrensen ble det fort verre og vi måtte slåss oss litt igjennom kratt og trær. Det var dog mye bedre enn når vi gikk inn i Børgefjell på andre siden. På denne siden var det mere kratt og trær og mindre myr. Spesielt tungt i slik terreng når det ikke er noen sti å følge. Du må liksom bare grave deg fremover. Utrolig glade og utslitte var vi når vi fant stien og en hengebro over elva. På andre siden av broen startet stien. Her på stien hadde de til vår store overraskelse også lagt klopper der det var myr. Helt fantastisk! Vi kan se sagflisen igjen etter når de har ordnet til dette, så dette kan ikke være mange dager siden de bygde dette? Også på en annen bro vi kom til kunne vi se masse sagflis rester. Stien går igjennom en eventyrisk bjørkeskog, og er veldig fin.
På stien møtte vi på en reinsdyr flokk som var spredt ut over begge sider av stien. Vi lagde litt lyd og de fleste reinsdyrene løp mot venstre. To større reinsdyr gikk til høyre og stoppet på stien vår, så på oss og laget en grynte lyd jeg aldri før har hørt. Etter litt kom et kvinnelig reinsdyr løpende til flokken og de to store fulgte etter. Tydelig at reinsdyr passer på hverandre. Skulle likt å vist om gryntingen var kommunikasjon om at hun måtte komme, eller noe de gjorde mot oss for å få oss til å stoppe. Når flokken var samlet løp de videre bort fra oss. Nå etter at vi har lært oss å gi reinsdyrene tid til å flytte seg unna oss samt lager lyd så de vet hvor vi er tidlig har vi ikke hatt noe mer problem med reinsdyrene.
Vi slo opp teltet rett ved bro nummer to, og nøyt middagen sittende oppe på broa. Dette må være en av den første middagen på turen der det har vært varmt nok til å sitte ute å spise den. Vi slo også opp telt ganske tidlig da vi var usikker på terrenget videre og ønsket å slå opp telt før vi begynner på stigningen igjen. Vi fant også en helt idyllisk plass.